About Christina's Garden
About Christina's Garden
Everything. Right where you need it.
CHRISTINA'S GARDEN is a friendly, family business with beautiful, brand new, spacious, modern and very clean rooms (studios) and apartments with one or two bedrooms. All of them are well equipped with kitchenette, refrigerator and everything that is necessary, in order to provide all the beauty and comfort that are needed to guarantee the pleasant stay of the guests.
It lies in a green oasis of 10.000 m2. The stone houses are encircled by wonderful, beautifully designed and well maintained gardens with trees and multicoloured flowers composing a colourful palette. Beautiful evergreen plants surrounding the pool, create an ideal place for relaxation.
CHRISTINA'S GARDEN is a wonderful hotel, built in 1993. It has three new wings and it's fully refurbished – renovated and modernized to high standards. It is located on the main street of beautiful Anaxos. Anaxos is a quiet resort, famous for its wonderful sandy beach with taverns and restaurants by the side of the crystal clear blue waters of Aegean sea.
CHRISTINA'S GARDEN is the destination to peace and enjoyment. We welcome you in the warm atmosphere of our oasis ready to offer you our services which will keep every member of your family satisfied.
CHRISTINA'S
GARDEN
a small paradise for kids and adults! You can relax at our pool, under the Mediterranean sun, enjoying your drink and let the children play safely in the children's swimming pool or in our appropriately formed playground.
Try our Special Cocktails and our refreshing fresh juices at the Pool Bar or enjoy the coolness of a cold beer from the large collection of Greek and foreign labels that we have. A wide variety of quality home-made delicacies and tasty dishes are served all day from our Snack Bar / Restaurant.  Throughout the summer, a BBQ night with Live Greek music and traditional dancing groups is held every week.
All the above in combination with the family's well known hospitality guarantee you unforgettable vacations.
Our facilities include: Swimming pool with sun lounges and umbrellas, Children's Pool, Playground, Snack Bar, Pool Bar, Ample Free Parking, Wireless Internet.
Activities: BBQ Nights – Greek Nights, Nights QUIZ, Games BAR, New Movies on TV, Kids Channels.
Our clients are able to take part in various activities and explore the natural beauty of our area.In addition they have the opportunity to visit unique attractions on our island Activities and Excursions:
1) Walking trips to monasteries and local villages
2) Donkey rides
3) Excursions to traditional villages on our island
4) Visits to the petrified forest of Sigri
5) Excursions to the ancient aqueduct of Moria
6) Walking trips in different paths of north Lesvos and in Lepetimnos
All these activities are organized by the guides of the Tour Operators with which we co-operate.
About the area
ANAXOS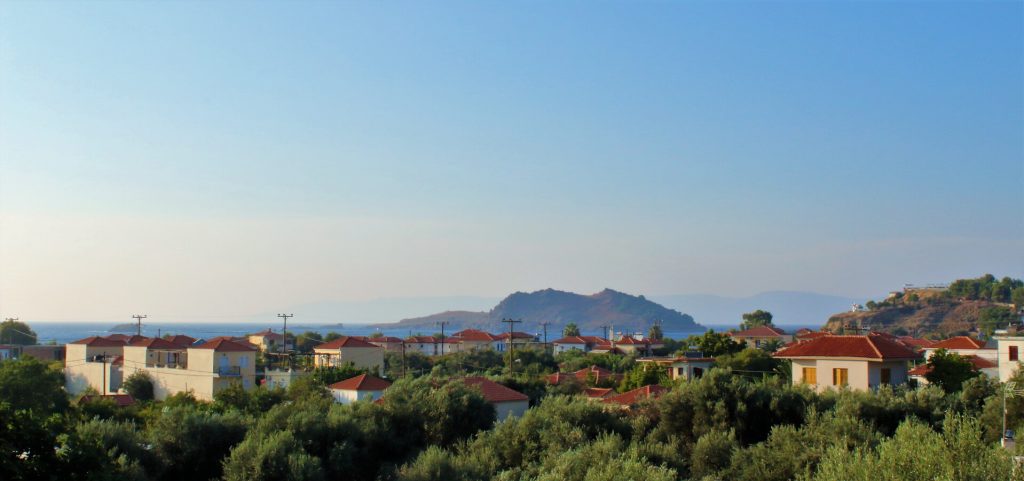 The region combines exceptional natural beauties: olive groves and pine forests, oak-trees, cypress-trees as well as fruit-bearing trees, traditional stone built mountain villages with running waters and rich vegetation, but also seaside modern summer holiday settlements with sandy beaches and crystal waters.
The long beach is sandy and very good for swimming and there is a good array of restaurants along the beach road, which cater for all tastes. There is a frequent bus service in the summer, which travels between Anaxos, Petra, MolIvos and Eftalou, enabling the visitor to easily access these and other places during their stay.
PETRA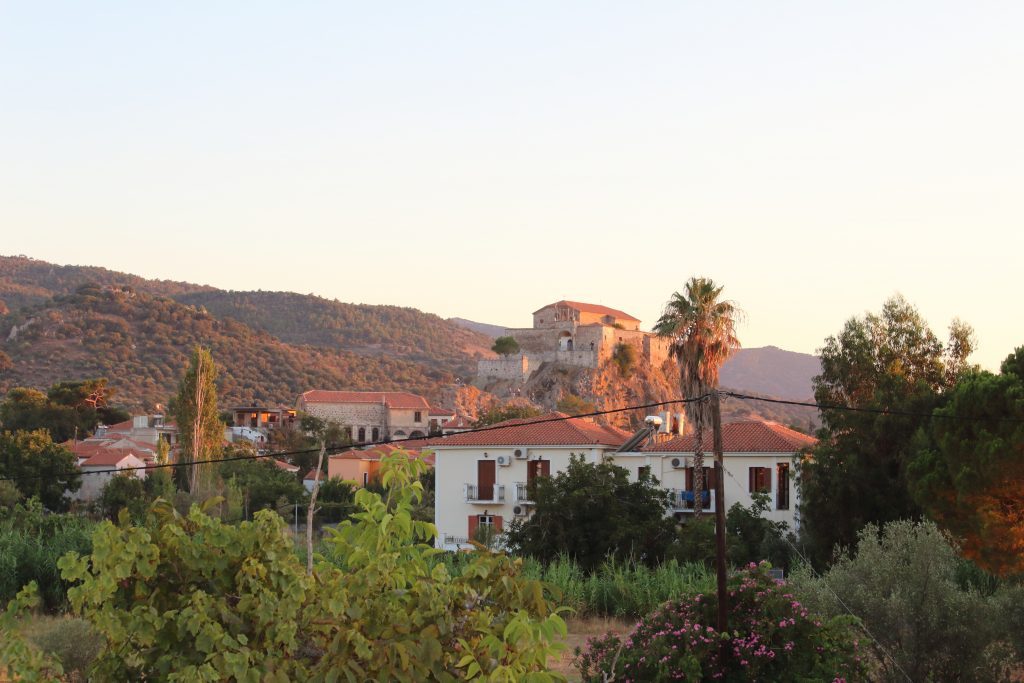 Dominated by its famous, picturesque church, perched 40 metres above the rooftops on a huge rocky outcrop in the centre of the village, Petra is a year-round working village. Its traditional way of life still flourishes with fishermen busy on the harbour and farmers chatting noisily over their morning coffee in the bustling village square.
Pretty, cobbled streets of small, immaculately clean houses open on to shady squares and wider streets of well-preserved neo-Classical mansions set in large gardens – all overflowing with the summer scents of jasmine and bourganvillia.
The little shopping streets open out on to the lively main square on the seafront where, in summer, you can enjoy breakfast in the morning sun or spend warm evenings in the pavement cafes and tavernas. The village is enjoying a growing popularity with tourists -many returning every year – so there are modern amenities available as well as well-stocked shops.
MOLYVOS
Molivos (Mithymna or Molyvos) at the northern tip of Lesvos is arguably the most beautiful village of the island with its picturesque harbour dominated by the castle and tiers of red-tiled stone houses climbing up the slopes away from the blue sea.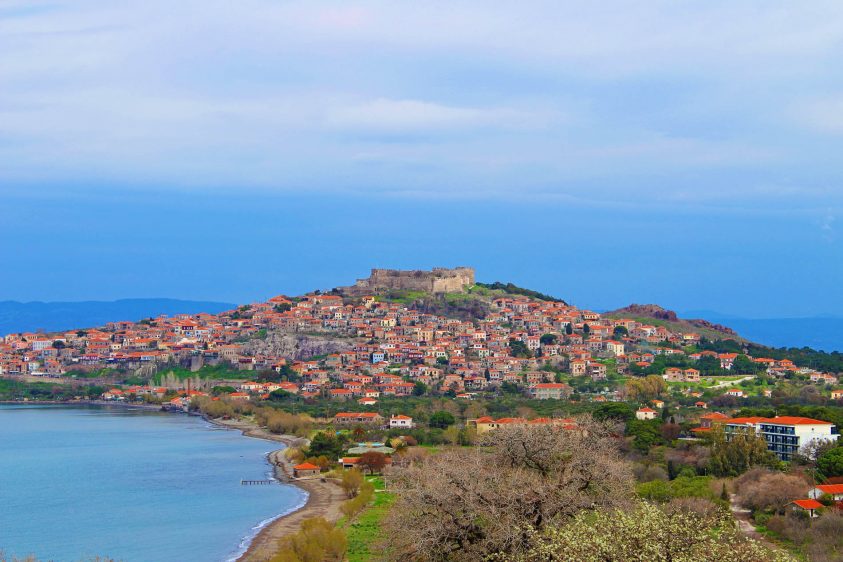 According to mythology, Mithymna was one of the five daughters of the mythical King Makara.The traditional architecture of the town reflects the modus vivendi and social life styles of the past. In 1965 the competent authorities put a preservation order on the entire settlement of Molyvos (Mithymna), thus declaring it a protected town.
Mithymna owns an archaeological collection with impressive findings from the surrounding area, and a library with a collection of over ten thousand volumes and manuscripts.
Since 1960, tourist development has played a critical role in the life and evolution of Molyvos. Every year a significant number of cultural events and conferences, both national and international, are held in Molyvos. Art exhibitions, lectures, theatrical performances and folklore events are held in the town.
Apart from the tourist industry, the local inhabitants also work in the fishing, olive cultivation, cattle-breeding and farming sector.